Erin Hunter
---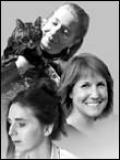 Erin Hunter is a pseudonym used by the authors Kate Cary, Cherith Baldry, and Tui Sutherland, and editor Victoria Holmes. Each of the authors play a different role: while Holmes creates the storyline of each book, Cary, Baldry, and Sutherland take turns writing the books.
Victoria Holmes
was the original author of the
Warrior
series, but now edits the series. Holmes was born in 1974 and grew up on a farm in England. She attended Oxford University and now lives in London.
Kate Cary
was the second author brought on board to write for the series. She was born in England in 1967. She later moved to Scotland where she lived for 12 years before going back to England where she currently resides.
Cherith Baldry
Cherith was the third author invited to join the Erin Hunter team, after Holmes recognised her writing style was similar to that of Kate Cary.
Tui Sutherland
was born in Caracas, Venezuela, but now lives in Boston, USA, which makes her the only non-British author of the series.
Nationality:
British