Dragon's Kin
---
by
Anne McCaffrey
(Author)
Todd McCaffrey
(Author)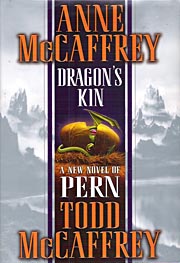 Young Kindan has no expectations other than joining his father in the mines of Camp Natalon, a coal mining settlement struggling to turn a profit far from the great Holds where the presence of dragons and their riders means safety and civilization. Mining is fraught with danger. Fortunately, the camp has a watch-wher, a creature distantly related to dragons and uniquely suited to specialized work in the dark, cold mineshafts. Kindan's father is the watch-wher's handler, and his son sometimes helps him out. But even that important job promises no opportunity outside the mine.

Then disaster strikes. In one terrible instant, Kindan loses his family and the camp loses its watch-wher. Fathers are replaced by sons in the mine - except for Kindan, who is taken in by the camp's new Harper. Grieving, Kindan finds a measure of solace in a burgeoning musical talent...and in a new friendship with Nuella, a mysterious girl no one seems to know exists. It is Nuella who assists Kindan when he is selected to hatch and train a new watch-wher, a job that forces him to give up his dream of becoming a Harper; and it is Nuella who helps him give new meaning to his life.

Meanwhile, sparked by the tragedy, long-simmering tensions are dividing the camp. Far below the surface, a group of resentful miners hides a deadly secret. As warring factions threaten to explode, Nuella and Kindan begin to discover unknown talents in the misunderstood watch-wher-talents that could very well save an entire Hold. During their time teaching the watch-wher, the two learn some things themselves: that even a seemingly impossible dream is never completely out of reach...and that light can be found even in darkness.