Dark Sun
---
by
Robert Muchamore
(Author)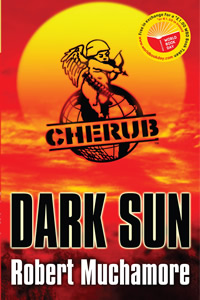 Companion book
Pages: 128

BOOK SHOP
It's the last day of term. Three lads are clearing out their lockers, organising a sleepover and hatching a plan to spatter a girl with rancid coleslaw. But things aren't what they seem...

One boy's father is a member of Dark Sun, a criminal organisation dealing in nuclear weapons technology, while another is a CHERUB agent sent to stop him.

This limited edition novelette was released in celebration of World Book Day 2008! It is now out of print, but can be downloaded for free from: www.cherubcampus.com/book95

The events of 'Dark Sun' take place between 'Mad Dogs' and 'The Sleepwalker,' technically making it book number 9.5 in the CHERUB series, though it bears no effect on the series as a whole.