Specky Magee and a Legend in the Making
---
by
Felice Arena
(Author)
Garry Lyon
(Author)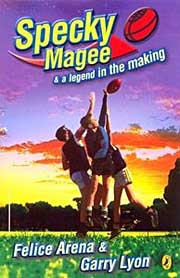 Only last month, former Booyong High student Simon 'Specky' Magee led the Gosmore Grammar Knights to victory against our courageous Booyong Lions. But now he's back in town!

Well, we at the Bugle would like to welcome Simon home, but even his best mates don't want him on the team. And now we can't help but wonder just how 'specky-tacular' Magee really is... Will he ever play with Booyong again?

Specky has questions of his own... Will Robbo and Danny ever talk to him again? What could possibly scare the Great McCarthy? And what's Screamer up to now?