Specky Magee Ready to Make His Mark
---
by
Felice Arena
(Author)
Garry Lyon
(Author)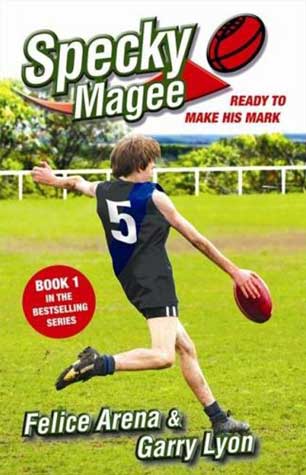 Note: This is a revised edition of the book originally titled, 'Specky Magee'.

Simon 'Specky' Magee is twelve years old and mad about Australian Rules football. He's such a talented player he got his nickname 'Specky' for taking 'spec-tacular' marks. Not that anyone in his family would know - or care - about his ability.

When Specky finds a baby photo of himself dressed up in footy gear he is completely confused. Why would his parents have done this when they hate footy so much? Who dressed him in those clothes, and why won't his parents give him a straight answer when he asks them about it? Determined to find out the truth, Specky embarks on a quest that uncovers more than he ever bargained for.

Co-written by highly acclaimed author Felice Arena and AFL legend Garry Lyon, the bestselling Specky Magee has been shortlisted for many Australian children's book awards.