Von Gobstopper's Arcade
---
by
Alexandra Adornetto
(Author)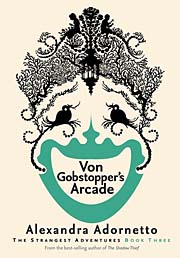 After a perilous journey to the Conjuror's Realm, Milli and Ernest have again escaped the clutches of the wicked Lord Aldor. But their strange adventures are not over yet. To commemorate the extraordinary bravery of Drabville's children, millionaire philanthropist and master toymaker Gustav Von Gobstopper builds the children a special Toy Arcade.

But upon visiting the arcade, Milli and Ernest's excitement turns to intrigue when they encounter a small band of toys hiding underground, deranged designer Tempest Anomali and a cohort of discredited surgeons, the Botchers. A macabre plot - to be executed at Christmas - emerges. Could Aldor be behind this pernicious scheme to eradicate childhood? As Christmas Eve draws close, Milli and Ernest find themselves enlisted as Santa's helpers for a Christmas spectacle that will be like no other ...

Can they protect the town before catastrophe strikes?