Doomwyte
---
by
Brian Jacques
(Author)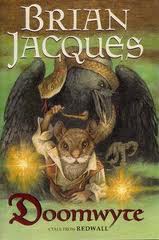 On a moonless night, two rats follow hypnotic lights into the forest, never to be seen again. Such is the power of the Doomwytes, sinister ravens led by the deadly Korvus Skurr.

And when the young mouse Bisky persuades the creatures of Redwall Abbey to go in search of a fabled treasure, hidden long ago by one of the abbey's most notorious thieves, they do not suspect Skurr and his ravens will be vying for that very treasure!

Bisky and his fellow Redwallers must summon all their courage to face the evil horde of slithering snakes and vicious ravens.

From underground tunnels to the tops of trees, the fearless Redwallers, with the help of their woodland friends, battle some of their most vicious enemies yet in an exhilarating, terrifying treasure hunt.