Eulalia!
---
by
Brian Jacques
(Author)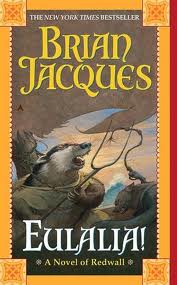 Lord Asheye of Salamandastron has a prophecy: A new Badger Lord must take his place and reign over the legendary badger fortress. But who is this young warrior who shuns both armor and sword? And how is he to be found?

Mad Maudie, a feisty haremaid of the Long Patrol, is just the one to track him down. Meanwhile, the unsuspecting future Badger Lord has been captured by a scurrilous group of Sea Raiders led by the infamous fox, Vizka Longtooth, who intends on conquering Redwall Abbey.

It is up to our young hero to defend Redwall so that he may fulfill his destiny as leader of Salamandastron.