Mia: A Matter of Taste
---
by
Coco Simon
(Author)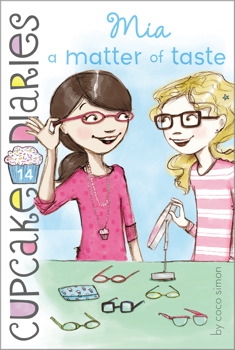 Mia learns to balance style and substance when she has to get glasses AND braces.

Fashionista Mia gets some unflattering news from Katie's mom, Dr. Brown: She needs braces. And just when Mia thinks things can't get any worse . . . they do. Her teacher is concerned that Mia is squinting in class. A trip to the opthamologist confirms it: Mia needs glasses, too!

Mia is miserable until her stylish mom comes to the rescue with a plan and a very chic middle school look. And her wonderful Cupcake Club friends reassure her that glasses and braces don't get in the way of all they really see: the same old Mia.