Andy G, Terry D, the Brave Tea-Lady and the Evil Bee
---
by
Andy Griffiths
(Author)
Terry Denton
(Illustrator)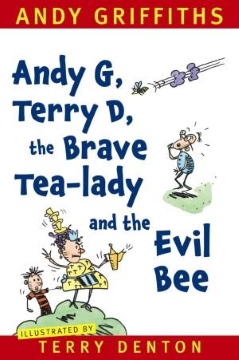 Andy G and Terry D are being chased by an evil bee.

Thank goodness for the tea-lady and her bravery.

A rhyming story of mischief and mayhem that will delight everyone, especially beginner readers, accompanied by Terry Denton's energetically comic illustrations.

This story first appeared in The Cat on the Mat is Flat, which featured a collection of short stories. The original black and white illustrations are now in colour, and the story has been redesigned in a larger format.