The Assassin's Curse
---
by
Lindsay Buroker
(Author)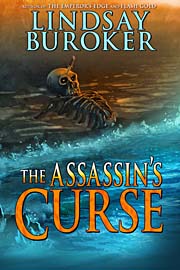 Companion book
Pages: 34

When outlaws Amaranthe and Sicarius chance upon spies stealing military prototypes, they immediately give chase. Well, immediately after Amaranthe talks Sicarius, former assassin and all-around non-altruistic type, into the mission. She wants an imperial pardon, and what better way to attract the emperor's favor than by looking after the empire's interests?

What seems like a straightforward mission develops a hitch when the spies flee to Darkcrest Isle, a forbidding chunk of land reputed to be haunted. Amaranthe isn't quick to believe in tales of malevolent spirits, so she's startled when the ever-pragmatic and unflappable Sicarius shows reluctance at setting foot on the island. Only when it may be too late to escape does Amaranthe come to understand why.

The Assassin's Curse is a 12,000-word short story.