The Dragonlover's Guide to Pern
---
by
Anne McCaffrey
(Author)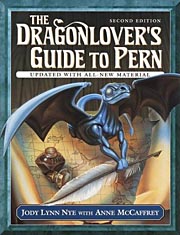 An indispensable companion guide to the wonderful world of Anne McCaffrey and her dragons. Guaranteed to enrich every armchair traveler's journey into McCaffrey's legendary world, this illuminating guide leaves no stone in Pern unturned! Both faithful fans and newcomers will relish the fascinating history and lore of:

The Dragons: How they developed from little fire-lizards into the huge telepathic creatures that carry human riders and fight Thread;
The People: How they live, the clothes they wear, the food they eat;
The Places: What to see and do in individual Holds and Weyrs; and
Thread: Its appearance and behavior, the threat it poses, and ways to combat it.

Please Note: The 2nd edition of this book has been updated to include: The Renegades of Pern (Book 12), All the Weyrs of Pern (Book 13), The Chronicles of Pern: First Fall (Book 14), and The Dolphins of Pern.

Also, the story in this guide specific to the Pern series storyline is called, The Impression.