Emma, Smile and Say "Cupcake!"
---
by
Coco Simon
(Author)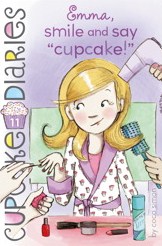 Emma wants to be a model, but membership in the Cupcake Club might be all the fame she needs...

The Special Day wedding salon is running an ad in the local newspaper, and they want Emma to model in the advertisement. When a local department store also wants to use Emma as a model, she's suddenly very much in demand!

But after running all over New York City for auditions (and being told over and over she "just isn't right") Emma realises that being a model is a lot tougher than she thought. Does Emma really want to be America's next top model, or is being a part of the Cupcake Club sweet enough?