Eoin Colfer
---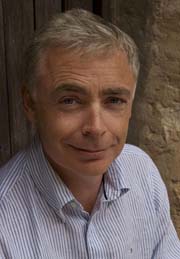 Eoin Colfer was born and raised in Wexford, Ireland. He began writing plays at an early age, forcing his unfortunate classmates to dress up as marauding Vikings when they would have preferred to be outdoors doing some real marauding. Browbeaten by constant encouragement from his family, Eoin continued to write as an adult. His first novel, 'Benny and Omar', was an instant bestseller in Ireland, and 'Artemis Fowl', his first book featuring the brilliant young anti-hero, was an immediate international bestseller. It was shortlisted for the 'Whitbread Children's Book of the Year' and was winner of both the 'WH Smith People's Choice Children's Book of the Year' and of the 'British Book Awards Children's Book of the Year'. He currently resides in his hometown of Wexford with his wife and their two children. (For interest's sake, his first name is pronounced 'Owen')
Author's Comment:
Q: How did the Artemis Fowl books compare to other books you've written? A: The books are all different. I like to switch the style between every book, just to keep myself interested. That's why I wrote
Airman
, because I wanted to have something that was completely different. So I thought. But then people tell me, well, it's got the same themes. It's got the technology, it's got the humour, it's a big adventure, so it's kind of you in the past. So maybe you can't escape yourself, but I try and mix it up between every book. The
Artemis Fowl
books I suppose are what I'm most well known for by people, so I don't know what that says. I think a series you have a chance to build, so just one book has got to stand on its own.
Nationality:
Irish