Alexandra Adornetto
---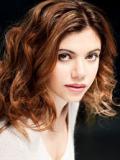 Alexandra Adornetto was born in 1992 and grew up in Melbourne. She is the daughter of two teachers - her father a drama teacher, her mother an English teacher - and started writing her first book, The Shadow Thief at age thirteen. The novel was published by HarperCollinsPublishers Australia when she was fifteen years old and she has worked as a writer ever since.
She is currently attending college in the USA and working on the final book in the Halo trilogy. Her passions include old-school country music, theology, singing and performing. In the future Alexandra hopes to combine novel writing and acting.
Author's Comment:
Q: What is your favorite thing about being a writer?
A: Being a writer is wonderful because you can create whole fictional worlds/characters and the author is omniscient! You also get to make your own working hours, which is a rare thing in other professions.
Q: Do you have any authors you look up to?
A: My writing role-models are authors like Roald Dahl and Enid Blyton. They inspired me to write simply by the sheer volume of work they produced and the lasting impact they have made on some many people.
Q: What advice would you give aspiring teen authors?
A: My advice to anyone would be to take constructive criticism on board and make your work as good as it possibly can be before sending it off to a publisher. I also think young people need to ensure they have developed a distinct style/voice in their writing.
Nationality:
Australian