Anthony Horowitz
---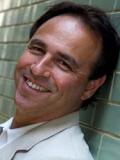 Anthony Horowitz was born in Stanmore, England, in 1955. He is a prolific and successful screenwriter and novelist, having written over 50 books and numerous television series, including the popular
Agatha Christie's 'Poirot'
, and
Foyle's War
. Horowitz was sent to boarding school at the age of eight, where he entertained fellow students by retelling stories he'd read. He attended the University of York, graduating with a BA in English literature in 1977.
Horowitz is credited with encouraging children - particularly boys - to read, with thrilling and suspenseful books such as the
Alex Rider
series, and
The Power of Five
(known as
The Gatekeepers
in the US); and with the humourous children's detective series,
The Diamond Brothers,
about the world's worst detective. He now lives in Central London with his wife. They have two adult sons, Nicholas and Cassian.
Author's Comment:
I knew without any doubt that I would be a writer when I was eight years old. This was partly due to the fact that I as no good at anything else (still true today). I was sent to a really horrible boarding school called Orley Farm, in North London. It was an all boy's school. The headmaster was allowed to beat you - and he often did. After lights out, I used to tell the other boys stories as a way of escape. I also discovered reading. The library was the only place in the school where I was happy. I wrote a play when I was ten. It was called 'The Thing that Never Happened' and it was all about Guy Fawkes. I suppose I've been writing full-time ever since.
Nationality:
British