Felice Arena
---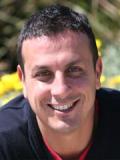 Felice Arena was born in Kyabram, Victoria and attended La Trobe University, in Bendigo, Victoria. He graduated as a primary (elementary) school teacher and taught art for a year before pursing writing and acting. Felice played the role of Marco Alessi in the Australian soap opera, Neighbours, and has also starred in the London West End musicals 'Hair', 'Godspell' and 'What a Feeling'. While performing evenings in London, he had his days free to develop story ideas and characters.
Felice Arena has authored and illustrated dozens of children's books, topped bestseller lists and garnered several awards, including five Australian Children Choice Book Awards.
Author's Comment:
Q. Why do you write for children? Felice: When I wrote my first book and took it to a literary agent, he said I had a rare gift in that I had a voice in my writing that would instantly connect with children. I was thrilled to hear this. I've been often told that I'm a big kid at heart, and that I could speak to children of all ages. In the real world, I'm not sure what that says about a grown man who still sounds as if he's still in Year 7, but in the world of children's literature it's the perfect fit.
Nationality:
Australian