Catherine Jinks
---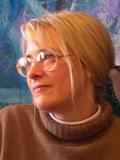 Catherine Jinks was born in Brisbane in 1963, growing up with two brothers in Sydney and Papua New Guinea. She studied at the University of Sydney, graduating with an honours degree in medieval history, and later worked on Westpac Banking Corporation's staff magazine for approximately seven years. In 1993, Catherine and her husband, Canadian journalist Peter Dockrill, spent a brief spell in Nova Scotia, where she began to write full time. The author of more than thirty books for children and adults, including the award-winning Pagan series, Catherine writes whenever she gets a moment. She became a writer because she loves reading, as well as history, films, TV and gossip, and gets ideas for her novels from all manner of places, particularly good science fiction films. Catherine's work has won many awards, including the Children's Book Council Of Australia Book of the Year Award three times. She lives in the Blue Mountains with her husband and daughter, Hannah.
Author's Comment:
Q. What was the biggest inspiration for you to become a writer? Catherine: Probably my mother. She always had her head in a book, and she was always reading to my brothers and me while we ate dinner. She's a very imaginative, creative person who encouraged us to read - and if you like reading books, you generally end up wanting to write them.
Q. What was your favourite book as a child? Catherine: I didn't have a favourite book as a child. I liked the Narnia books, The Nargun and the Stars by Patricia Wrightson, Josh by Ivan Southall, Snugglepot and Cuddlepie...lots of books.
Q. What are the best and worst things about being a writer? Catherine: The best thing is making money out of something that's so much fun. The worst thing is editing. Once I've finished a book, I want it to go away and never come back - but it does, again and again. I hate that.
Nationality:
Australian