Rick Riordan
---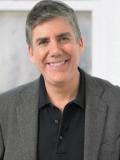 Best-selling author, Rick Riordan, was born in San Antonio, Texas, in 1964. After high school, Rick studied at several universities and graduated with a double major in English and history. Rick went on to work as a teacher for eight whilst writing an adult fiction series called 'Tres Navarre', about a Texan private eye with a "...with a penchant for Texas-size trouble." The concept for his next project, 'Percy Jackson and the Lightning Thief', was developed when Rick's son Haley asked his father to tell him bedtime stories based on the tales of Greek mythology he taught in school. The series features an unlikely hero in the form of Percy Jackson, a troubled twelve-year-old boy suffering from ADHD and dyslexia. In all, Riordan has written or contributed to more than twenty-five books and won numerous literary awards. Rick currently resides in Texas with his wife and their two sons.
Author's Comment:
Q: Did you ever think your books would get so popular?
A: I hoped the stories would get kids reading, but I never anticipated such exponential growth...'The Lightning Thief' was passed around from kid to kid, teacher to teacher, parent to parent, and the series got bigger with each book... I owe a special debt to the librarians of Texas, who embraced the books early on and did a huge amount of book-talking with their kids. Without them, I doubt the momentum would've built nearly as much or as quickly. Still, I have trouble thinking in terms of millions. I measure success by anecdotes - the kid who told me he never liked books until he found 'The Lightning Thief', the parent who thanked me for turning her daughter into a reader, the teacher who said I turned her class around because they bonded over reading 'Percy Jackson' every day. That's what it's all about for me.
Nationality:
American