The Castle in the Sea
---
by
Mardi McConnochie
(Author)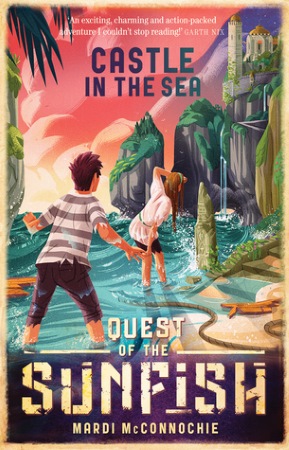 The adventures of the Sunfish continue as twins, Annalie and Will, inch closer to finding their missing father in this highly original nautical adventure story with a speculative fiction twist. This time, the twins face even more challenges, including terrifying pirates and a devastating storm that will test the strength of their small wooden boat and their friendship.

Once more, Annalie, Will, Essie and Pod set out on the Sunfish to look for Spinner – their only clue a coded list Spinner left behind, naming four scientists who were once his colleagues on a top-secret project.

When a terrible storm separates the crew and almost wrecks the boat, Will and Essie must use all their courage and ingenuity to try and make their way back to the others. Meanwhile, Pod and Annalie, travelling in the crippled Sunfish, are captured by pirates, who agree to fix the Sunfish – at a price.

Not all of Spinner's former colleagues can be trusted. Worse still, their old nemesis Beckett is still on their trail. Can they follow the clues, track down the scientists, and find Spinner before Beckett does?