Race to the End of the World
---
by
A.L. Tait
(Author)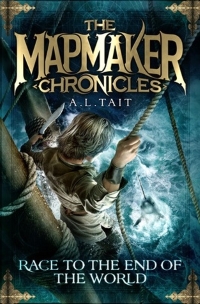 Quinn's older brothers may long for adventure, but he is content with a quiet life on the farm. Destiny, however, has other plans.

The King is determined to create the first map of the world and has scoured the kingdom for boys who could become mapmakers. When Quinn is chosen for the King's training school, he's amazed – but that is nothing compared to his shock when he is selected as one of the three mapmakers and finds himself on board a ship, competing for the big prize.

So begins Quinn's reluctant journey deep into the unknown, on a ship captained by a slave, with a stowaway girl on board, and a mysterious sea monster that seems to be following them. Hot on their trail are the other competitors for the King's prize, who will stop at nothing to win.