Thread Skein
---
by
Leeland Artra
(Author)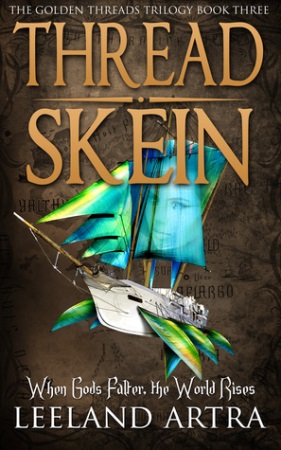 BOOK SHOP
Ticca is becoming the great mercenary leader she was born to be. Lebuin has overcome many of his fears. Yet Ticca still doesn't understand what it means to be the great leader she must become and Lebuin faces an even greater challenge having to choose his true path. Together with an elite team of warriors they must find the key to stopping the seemingly undefeatable Nhia-Samri mercenary nation that is decimating the alliance kingdoms in the war.

Shar-Lumen, the insane elf-lord leader of the Nhia-Samri, attacks the leaders of the allied nations at their meeting burning the imperial capital cementing the war in place and forcing the gods to come out of their realm to take direct action. As the alliance struggles to assemble its combined armies, thousands die on both sides. Duke and Lord Dohma of Aelargo fight to give Ticca and Lebuin time to discover Shar-Lumen's secrets needed to stop him.

The solution isn't what anyone expected. To stop the war Ticca and Lebuin must put their lives on the line knowing one of them will likely die. Thread Skein delivers surprising twists and action packed adventure making it a masterful nonstop thrilling conclusion to the Golden Threads Trilogy.