Stars Above
---
by
Marissa Meyer
(Author)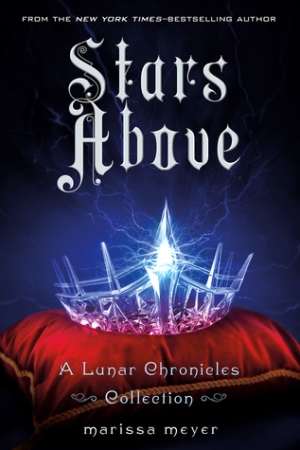 Companion book
Pages: 368

BOOK SHOP
With nine stories – five of which have never before been published – and an exclusive never-before-seen excerpt from Marissa Meyer's upcoming novel, Heartless, about the Queen of Hearts from Alice in Wonderland, Stars Above is essential for fans of the bestselling and beloved Lunar Chronicles.

Stars Above Includes:

Carswell's Guide to Being Lucky: Thirteen-year-old Carswell Thorne has big plans involving a Rampion spaceship and a no-return trip out of Los Angeles.

The Keeper: A prequel to The Lunar Chronicles, showing a young Scarlet and how Princess Selene came into the care of Michelle Benoit.

After Sunshine Passes By: In this prequel to Cress, we see how a nine-year-old Cress ended up alone on a satellite, spying on Earth for Luna.

The Princess and the Guard: In this prequel to Winter, we see a game called The Princess.

Something Old, Something New: In this epilogue to Winter, friends gather for the wedding of the century...

...and more!