Ragwood
---
by
Avi
(Author) Brian Floca (Illustrator)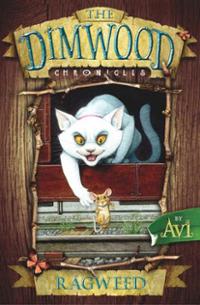 A mouse has to do what a mouse has to do.

Ragweed is determined to see the world. He leaves his family and cozy country home and sets off by train for the big city. What wonders await him: music, excitement, new friends . . . and cunning, carnivorous cats!

Silversides is the purring president of F.E.A.R. (Felines Enraged About Rodents), a group dedicated to keeping cats on top, people in the middle, and mice on the bottom. Can Ragweed and his motley yet musical crew of city nice—Clutch, Dipstick, Lugnut, and Blinker—band together to fight their feline foe?

Author's Note:

The Poppy books were not written in order. First I wrote Poppy, the second book in the series, then Poppy and Rye, as the third. Only then did I write Ragweed—the first. I did so because although Ragweed, as a character, leaves the series quite early, his spirit, so to speak, is in all the books. I—and my readers—needed to know about him, and how and why he came to Dimwood Forest. That's how the book came to be. And I—as a writer—love how what happens in this book has an impact on the last book in the series, Poppy and Ereth.