Guts: The True Stories behind Hatchet and the Brian Books
---
by
Gary Paulsen
(Author)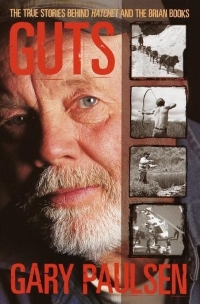 Companion book
Pages: 144

Here are the real events that inspired Gary Paulsen to write Brian Robeson's story in Hatchet and the other books which make up Brian's Saga: a stint as a volunteer emergency worker; the death that became the pilots death in Hatchet; plane crashes hes seen; and his own near misses.

He takes readers on his first hunting trips, showing the wonder and solace of nature along with his hilarious mishaps and mistakes. He shares special memories, such as the night he attracted every mosquito in the county, and how he met the moose who made it personal.

Readers may wonder how Gary Paulsen survived to write all of his books . . . Well, it took guts.