Demon Apocalypse
---
by
Darren Shan
(Author)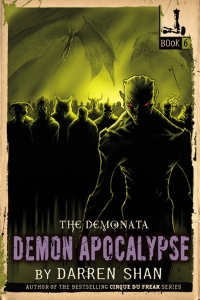 Grubbs Grady is trapped on a plane with demons and seems doomed to die. Salvation comes from an unexpected quarter, but soon Grubbs wonders if he might have been better off perishing on the plane!

Grubbs becomes a reluctant assistant to an ancient magician and sets out on a life fighting demons. He finds himself unsuited to the job, but when the lives of those he loves most are put at risk, he must try to face his fears and come to terms with his magical powers.

But the world is poised on the brink of an apocalypse. All seems doomed. The Demonata are on the verge of winning the centuries-old war with mankind. If Grubbs is to save his loved ones, he'll also have to save the world. And that's a big ask for a teenager who hates magic and is still worried that he might turn into a werewolf!