Slaves of Socorro
---
by
John Flanagan
(Author)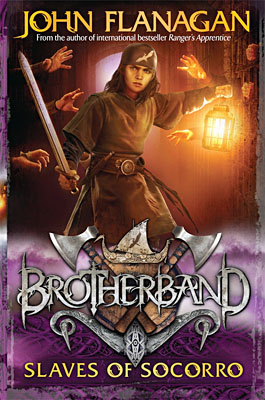 480
Published: 2014

Shop this book
Hal and his fellow Herons have returned home to Skandia after defeating the pirate captain Zavac and reclaiming Skandia's most prized artifact, the Andomal. With their honor restored, the Herons turn to a new mission: tracking down an old rival turned bitter enemy. Tursgud—leader of the Shark Brotherband and Hal's constant opponent—has turned from a bullying youth into a pirate and slave trader. After Tursgud captures twelve Araluen villagers to sell as slaves, the Heron crew sails into action...with the help of one of Araluen's finest Rangers!
In this fourth book in the Brotherband Chronicles, a new battle unfolds as old rivalries are renewed, peace treaties are put to the test, and the action builds to a pulse-pounding finale. Perfect for fans of J.R.R. Tolkien's
Lord of the Rings
, T.H. White's
The Sword in the Stone
, and Christopher Paolini's
Eragon
series.