Adrian Mole: The Prostrate Years
---
by
Sue Townsend
(Author)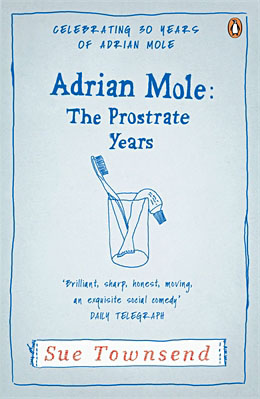 Sunday 1st July
NO SMOKING DAY
A momentous day! Smoking in a public place or place of work is forbidden in England. Though if you a lunatic, a prisoner, an MP or a member of the Royal Family you are exempt.

Adrian Mole is thirty-nine and a quarter. He lives in the country in a semi-detached converted pigsty with his wife Daisy and their daughter. His parents George and Pauline live in the adjoining pigsty. But all is not well.

The secondhand bookshop in which Adrian works is threatened with closure. The spark has fizzled out of his marriage. His mother is threatening to write her autobiography (A Girl Called Shit). And Adrian's nightly trips to the lavatory have become alarmingly frequent...