Gone
---
by
Michael Grant
(Author)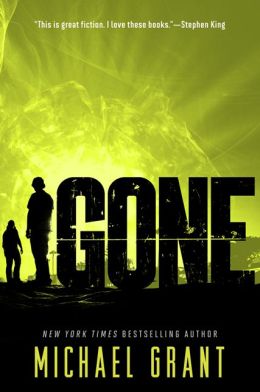 Suddenly there are no adults, no answers. What would you do? In the blink of an eye, the world changes. The adults vanish without a trace, and those left must do all they can to survive.

But everyone's idea of survival is different. Some look after themselves, some look after others, and some will do anything for power, even kill.

For Sam and Astrid, it is a race against time as they try to solve the questions that now dominate their lives. What is the mysterious wall that has encircled the town of Perdido Beach and trapped everyone within? Why have some kids developed strange powers? And can they defeat Caine and his gang of bullies before they turn fifteen and disappear too?

It isn't until the world collapses around you that you find out what kind of person you really are. When life as you know it ends at 15, everything changes.