The Last Elephant
---
by
Justin D'Ath
(Author)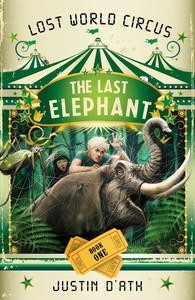 BOOK SHOP
Colt Lawless is on the run, suddenly famous, and more than a little superhuman. But can he save the last animals on earth?

Twelve years from now, rat flu has wiped out almost every animal and bird on the planet. The creatures in Captain Noah's Lost World Circus are the last of their kind. But the Rat Cops are determined to shut down the circus, and Colt and his acrobat friend Birdy might be the only ones who can save it, starting with Lucy – the world's last elephant.
Boys and girls with an interest in animals and nature conservation will enjoy this exciting and informative adventure series from one of Australia's most popular children's authors.