Light
---
by
Michael Grant
(Author)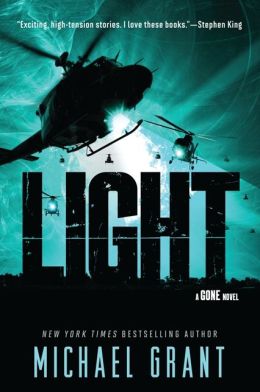 It's been more than a year since every person over the age of fifteen disappeared from the town of Perdido Beach, California. In that time, countless battles have been fought: Battles against hunger and lies and plagues and worse, battles of good against evil, and kid against kid. Allegiances have been won, lost, betrayed, and won again; ideologies have been shattered and created anew, and the kids of the FAYZ have begun to believe that their new society is the only life they'll ever know.

All eyes are on Perdido Beach. The barrier wall is now as clear as glass and life in the FAYZ is visible for the entire outside world to see. Life inside the dome remains a constant battle and the Darkness, away from watchful eyes, grows and grows... The society that Sam and Astrid have struggled so hard to build is about to be shattered for good. It's the end of the FAYZ. But who will survive to see the light of day?

Light, the sixth and final book in thrilling Gone series, asks as many profound and provocative questions as it answers, while mastermind and author Michael Grant creates an unforgettable, arresting conclusion that readers won't be able to stop talking about.