Missee Lee
---
by
Arthur Ransome
(Author)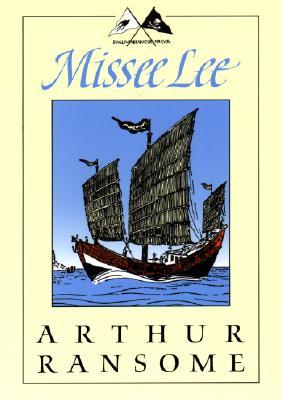 The original cast of the famed 'Swallows and Amazons' series is sailing under the stars and the command of Captain Flint in the South China Sea when Gibbet, their pet monkey, grabs the captain's cigar and drops it in the fuel tank. In minutes, the ship is ablaze, and our seven luckless protagonists are adrift in two small boats.

They make their way to land, only to find themselves the captives of one of the last remaining pirates operating off the China Coast. But Missee Lee, as it turns out, is no ordinary pirate; her father had sent her off to Cambridge University to prepare her for a life as a teacher. But when her father takes ill and dies, she finds herself struggling to hold together the Three Island Confederation (Tiger, Turtle, and Dragon) he had created, and to be recognised as his legitimate heir and ruler of the Island Kingdom.

Nancy Blackett has always wanted to meet a real pirate but the only trouble is that now she has, the tiny, pistol-carrying Missee Lees wants to keep Nancy and her friends... forever.