Christine Harris
---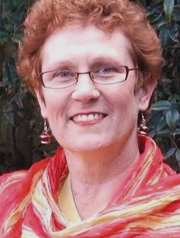 Christine Harris wrote her first book when she was nine, sitting up a tree in her Nan's back garden—which might explain her obsession with stories and gardens! Her Nan encouraged her imagination:
I'd knock on the door and say, "Hello, lady, I'm an orphan and I don't have anywhere to go." "Come in," Nan would say, "You can wear my granddaughter's clothes and eat her meal. She's not here right now."
Christine has since written over 50 books, including science fiction, historical fiction, horror, humor, poetry and plays, for readers aged 5 to15 years. Several of these books have won prizes, and many have been shortlisted for prizes. None were written up trees, but Christine's imagination is still going strong. She lives in Sunbury, Victoria.
Author's Comment:
I've always loved books. As a child I escaped into other worlds via the written page and pretended I was a character in the story. I still do this, but now I write down my own versions of what that character does. My goal is to make people laugh, cry or gasp when they read my stories. Or when they hear me tell stories. After an especially exciting talk in Alice Springs, in Central Australia, a seven year-old rushed up to me and said, Are you going to be a comedian when you grow up? Then he put one hand to his mouth and said, "Oh, you are grown up, aren't you?" Perhaps that is the key to why I write for younger readers. Part of me is their age. Truly, I wrote my first book up a tree. Okay, I was only nine years old. But it was a really big tree. That book was never published, but it was one of my most exciting. Not only was I up a tree, I was being rescued by a surprisingly hairless Tarzan. One of my favourite sayings about books is a Chinese proverb, "A book is like a garden carried in the pocket."
Nationality:
Australian