Libby Gleeson
---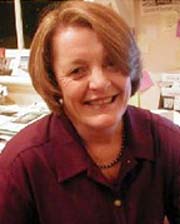 Libby Gleeson was born in Young, New South Wales, and grew up in a family of six children. She studied at the University of Sydney where she studied history before teaching for two years in the rural town of Picton, near Sydney. In the mid-1970s she lived for five years in Italy where she taught English, and later in London, where she began to write her first novel,
Eleanor Elizabeth.
On returning to Australia she taught at the University of Sydney. Libby is now a full-time writer and has written more than thirty books. She specialises in picture books and novels for children. She's also written scripts for the ABC's
Bananas in Pyjamas
and
Magic Mountain
. She is married, has three adult daughters and lives in Sydney's inner west.
[Source]
Author's Comment:
I was born in Young, a small town in south western NSW in 1950. After a few years we moved to Glen Innes, on the northern tablelands and then when I was ten we moved out west to Dubbo. We moved because my father was a schoolteacher and each change meant a promotion for him. There were six children in the family. I was number three and there wasn't a lot of money. We didn't have television and of course there was no such thing as a computer. Books and reading were hugely important. I remember going to the library on a Saturday morning and borrowing five or six books and reading them all by Sunday night. The writer's life is pretty good. It's a job where you work for yourself, in your daggy track suit, at times that suit you. What more could you ask for?
Nationality:
Australian