Michael Panckridge
---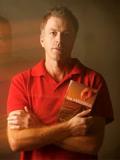 Inspired by his passion for sport and desire to get reluctant readers engaged in books, Michael Panckridge put his mind to finding out what it is kids want to read. Ten years later he finds himself the author of over 30 books - producing many series including the
Legends,
Anniversary Legends,
Toby Jones
series (a rich blend of cricket and fantasy), and
The League of Legends
series steeped in rugby league action. He has also written many novels and adventure books with elements of mystery and intrigue that keep the reader guessing.
Michael went to Geelong Grammar School and has worked in many jobs, including as a music teacher, sports teacher, primary teacher, secondary teacher, choir and orchestra conductor. He has two daughters and continues to combine part time teaching with his writing career. Michael has lived overseas and visited many different countries. He currently lives in Geelong, Australia.
Author's Comment:
Q. What was your best subject at school? A. P.E. and sport - and I liked maths too.
Q. What did you study at uni? A. I studied to become a teacher, and majored in music, psychology and a bit of sport too!
Q. What is the inspiration for your books? Why did you become an author? A. I write about kids and I write for kids and I work in a place where there are heaps of kids (except at night) so I guess children are the inspiration for my writing. Also, I didn't really like reading much as a kid; I just wanted to play footy... But I loved reading about sporty things. So I hope that my books are inspiring kids who mightn't like reading...to READ!!!
Q. Where do you get your ideas from? A. I lie in bed at night and play movies in my head. I enter this fantasy world that I'm creating and watch the story take its course. I guess my ideas also come from the real world and what I see and hear...
Q. What is your favourite book? A. Anything written by Roald Dahl I love - I think he's my writing hero!
Nationality:
Australian