Cameron Macintosh
---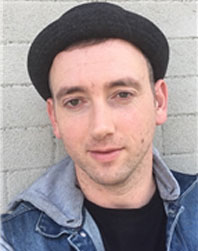 Cameron Macintosh was born in Melbourne and has lived there ever since, apart from overseas backpacking jaunts whenever he's been able to fund them. He studied Psychology and Italian at Melbourne University, and Professional Writing at RMIT.
Since then, he has written more than 80 books for primary and early secondary students, and is co-author of award winning educational series, including Oxford Literacy, Pearson English 3-6, and PM Oral Literacy.
Cameron has also honed hundreds of books for teachers and students in his other life as an editor for high quality educational publishers. In the few minutes per week that he isn't wrestling with words on the laptop, he loves singing and playing the guitar, and reading music biographies.
[Source]
Author's Comment:
Q. What's your favourite book you've read? (Lincoln 9)
A. There are so many, but if I had to choose, I'd probably say Boy, by Roald Dahl. It's an autobiography, about his childhood in Norway and the UK. I reread it every few years – some of it's incredibly funny, but he also talks a lot about his homesickness when he went to boarding school, and a lot of other difficult times he went through. Boy also gives you some really interesting insights about where he got some of the ideas for his most famous stories – particularly Charlie and the Chocolate Factory.
Q. When you were a kid, did anyone inspire you? (Max 10)
A. The people who inspired me most when I was a kid were mainly cricketers and rock musicians! But in terms of writing, I'd say I was probably most inspired by Dr Seuss. I wanted to write crazy rhyming stories like his, and draw cartoon illustrations to go with them. Unfortunately, my drawing skills need a lot of work before that dream can come true…
Q. What do you enjoy outside of writing? (Bronte 10)
A. I do a lot of reading, of course, but I also love drawing, guitar playing and long distance running. Eating and sleeping are two of my favourite hobbies as well!
Nationality:
Australian