Brandon Sanderson
---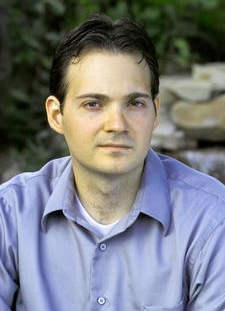 Brandon Sanderson was born in 1975 in Lincoln, Nebraska. As a child Brandon enjoyed reading, but he lost interest in the types of titles often suggested to him, and by junior high he never cracked a book if he could help it. This changed when an eighth grade teacher gave him
Dragonsbane
by Barbara Hambly.
The only author to make the short list for the David Gemmell Legend Award six times in four years, Brandon has written more than forty novels including the middle-grade series,
Alcatraz vs the Evil Librarians
. Currently living in Utah with his wife and children, Brandon teaches creative writing at Brigham Young University.
Author's Comment:
Alcatraz was written as a writing experiment, not as something that I was intending to publish. As the series grew more serious to me, meaning that I developed what I actually wanted to happen – which with me usually happens as I write book two of a series, when I sit down and build an arc for the entire series – I "realified" Alcatraz's world a little bit, if that makes sense, made it its own substantial thing.
Nationality:
American