Judith Rossell
---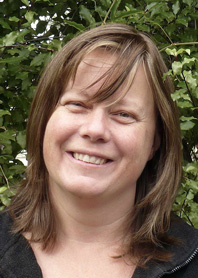 Judith Rossell has been an illustrator and writer of children's books for more than 12 years. Before that, sheworked as a government scientist (not a mad scientist, a normal kind of scientist) and also for a cotton spinning company (they made threads for t-shirts and denim jeans and mops and teabag strings). But what she loves most is drawing pictures, so she feels very lucky to be doing it as a job. She also likes staying in bed in the morning, and then staying in her pyjamas all day.
Judith has written more than ten books, and illustrated over 80. Her books have been published in the UK, the USA and have been translated into 15 languages.
She lives in Melbourne, Australia, with a cat the size of a walrus.
Author's Comment:
I'm obsessed with Victoriana, and I wanted to write a dark, funny, gothic adventure story. This is the kind of book I would have enjoyed reading when I was a child. The first idea I had for the story was the scene where Stella is concealed behind the ferns in the conservatory of the Hotel Majestic, and she sees one of the hotel guests hide a mysterious package. That's how the story began.
Nationality:
Australian