Gus Gordon
---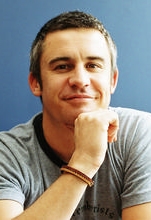 Gus Gordon is an author and illustrator. He grew up on a farm in northern NSW Australia and, after leaving school, worked on cattle stations all the country before deciding to pursue a drawing career.
Gus studied at the Julian Ashton School of Art in Sydney. After a brief stint as a cartoonist, Gus was asked to illustrate his first children's book in 1996. He knew at once that this was where he where he wanted to be, believing he shared a child's natural curiosity and love of stories. Gus began his career illustrating books for others before a yearning to tell his own stories compelled him to try his hand at writing. He has since illustrated or written nearly 80 books for children.
Gus is also proud to be an ambassador for the Room to Read foundation. He lives with his wife and three kids on the Northern beaches of Sydney.
Author's Comment:
What are the three weirdest illustrations you've done for the My Life books?
Boy, this really is a tough question as all my stuff is weird. Here are a few that come to mind:
(1) 'Hover poo' (that's self explanatory).
(2) '3 things I'd rather do than eat Vegemite off my sister's toe' (I had trouble drawing Tom sucking the pus out of Lisa Crabapples's zits).
(3) 'Nan acclimatising for Everest' (I had fun drawing nan with just her legs hanging out of a freezer. I made my wife Ali pose for that illustration. She spent three days in hospital afterward with frostbite but it was worth it).
Nationality:
Australian