Anna Staniszewski
---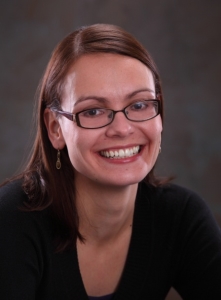 Born in Poland and raised in the United States, Anna Staniszewski grew up loving stories in both Polish and English. She was the former Writer-in-Residence at the Boston Public Library and a winner of the PEN New England Susan P. Bloom Discovery Award. Currently, Anna lives south of Boston with her husband and their adopted black Labrador, Emma. She teaches courses on writing and children's literature at Simmons College.
When she's not writing, Anna spends her time reading, daydreaming, and challenging unicorns to games of hopscotch. She is the author of the
My Very UnFairy Tale Life
series, the
Dirt Diary
series, and the
Switched at First Kiss
series, as well as the picture book,
Power Down,
Little Robot
for younger readers.
Author's Comment:
When I'm not writing, reading, eating chocolate, or playing with my dog, I teach writing at Simmons College in Boston... I've wanted to be a teacher since I was young, and I'm beyond grateful that my dream has come true. I love teaching because it gets me out of my sweatpants and forces me talk to non-imaginary people once in a while.
Nationality:
Polish American