Adrian Beck
---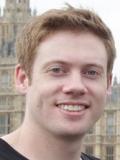 Adrian Beck writes funny, action-packed adventure stories for kids. He is the co-author of the best-selling kids' series
Kick it to Nick
, with AFL Hall of Fame inductee Shane Crawford. He has also written
Stuff Happens – Dale
, which tells the story of a redhead who gets teased once too often and plots revenge. All of Adrian's stories are fun to read – even for kids who struggle to get interested in books.
Adrian was born in Hobart, Tasmania. He is passionate about raising childhood literacy levels across the country, but particularly in Tassie where he is a part of the University of Tasmania's
Books in Homes
program.
Adrian is also a part-time TV producer / part-time writer, and uses both skill sets to deliver entertaining schools visits with lively, humorous and interactive sessions on writing, working in television and footy.
[Source]
Nationality:
Australian