Prue Mason
---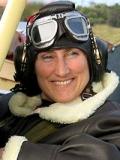 Prue Mason lived for many years in the Middle East and draws on her own many exciting life experiences to write her children's adventure novels that have been particularly successful with boy readers. She has also written many articles and short stories for children's magazines in Australia and internationally.
Author's Comment:
What other jobs have you had?
I've worked as a shearer's cook on a remote sheep station; a barmaid on the sleazy side of Perth; tried unsuccessfully to sell encyclopedias; was assistant to the manager of one of the Whitsunday islands, was an observer on a search and rescue plane, flight attendant on a private jet flying around Australia and the world; wrote a counseling column in a children's magazine; and taught Arabic girls to speak English.
Nationality:
Australian