Sarah McConnell
---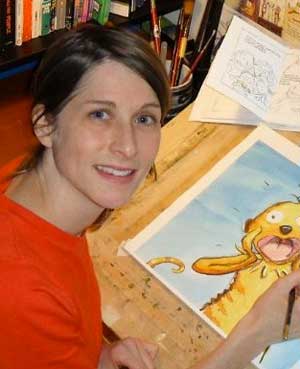 Sarah McConnell grew up in the Leicestershire countryside and spent her childhood drawing on every surface she could find, from the footpath in her parent's garden, to tiny storybooks that she kept under her pillow.
After taking an art foundation course she became very interested in the way images could suggest stories and studied Illustration at Anglia Ruskin University, going on to do an MA in illustration at Brighton.
Sarah has been both writing and illustrating for children for nine years. She now lives in Nottingham with her partner Rich, who is a musician and her extremely mischievous cat, Mewdy. She spends most of her time painting and writing in her studio, which sits on a hill overlooking the city.
Author's Comment:
I'm interested in children being thought of as people. When you're an illustrator working for children, you spend a lot of time getting into the mindset of a child. When I was a kid, I couldn't understand why people thought of me as a different type of being. I was like, "I'm just the same as you, I'm a little person but I've still got things to say." Sometimes children are actually smarter than adults.
Nationality:
British