Clara Vulliamy
---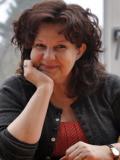 Clara Vulliamy was born in London, the daughter of the celebrated author-illustrator Shirley Hughes At the end of the day, Clara would use up the paints in her mother's palette, captivated by all the lovely colours. Her father was also an artist and growing up 'art was all around us'.
Clara studied at Chelsea School of Art, The Ruskin and the Royal Academy, first illustrating for newspapers and magazines, then later illustrating picture books when she had her own children. She has since written and illustrated many stories, sometimes collaborating with her mother.
Clara currently lives in Twickenham with her husband and two grown-up children, and works there in a room at the top of the house overlooking the treetops and back gardens.
Author's Comment:
Q. Do you have any peculiar writing rituals or habits?
I'm quite superstitious, and have lucky pens and pencil cases and particular notebooks with pages in exactly the right shade of white. I have a very old bear in a nurses uniform, for emergencies. Spotted at a school fair many years ago (so eager to own him I actually pushed people out of the way) and snapped up for a mere 10p. He now lives permanently on my desk, my lucky chum. He can only deal with small emergencies though, being small himself.
Q. What advice would you offer to aspiring writers/illustrators?
Be brave and do your homework. See what's out there, in bookshops and libraries: why has it been published, what makes it good? Then forget all about that, pull up the drawbridge and write and draw to please yourself. There may be lots and lots of books in the world, but there's room for you too.
Q. What is the last book you bought someone as a gift?
I bought Cat Lady Chic for my daughter, a collection of photographs of beautiful and accomplished women posing elegantly with their feline pals.
Q. How did the idea of Mango and Bambang come about?
It all started over elevenses. I knew at once that I'd love to work with Polly, not least because she makes me laugh a lot. When she suggested a tapir with a child companion it was a lightbulb moment: Mango and Bambang popped into my head as if I'd known them forever.
Nationality:
British