Jay Kristoff
---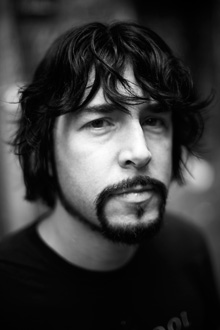 Jay Kristoff grew up in the second most isolated capital city on earth (also known as Perth). He spent most of his formative years locked in his bedroom with piles of books, or gathered around dimly-lit tables rolling polyhedral dice. He fled to Melbourne at his earliest convenience.
Jay's first trilogy,
The Lotus War
, is set to be published in over a dozen countries. Jay's new series, the SciFi thriller
The Illuminae Files
, which he co-authored with Amie Kaufman, has recently been published to widespread acclaim. A new fantasy series,
The Nevernight Chronicle
, commences with book one,
Nevernight
, in 2016. He is as surprised about all this as you are.
Jay is 6'7 and estimates that he has approximately 13,380 days to live. He lives in Melbourne with his secret agent kung-fu assassin wife, and the world's laziest Jack Russell. He does not believe in happy endings.
Author's Comment:
Why do you think Kady and Ezra are such compelling characters? Why do you think readers will root for them?
Because they're just normal kids. So many YA books are about Chosen Ones, or people with Special Powerz, or Orphaned Heirs to the Realm or whatever. And don't get us wrong, we love reading those! But
Illuminae
has none of that. K & E are just normal teenagers with normal problems, and all of a sudden they're thrown into the middle of this interstellar war. No super powers. No prophecies. Just two people seeing that things aren't right, and deciding to change it. People who know they might not make it to the end of the war, but choose to fight anyway. To us, people like that are the real heroes.
Although, Kady's snark is almost a super power, now we think of it...
Nationality:
Australian