Amie Kaufman
---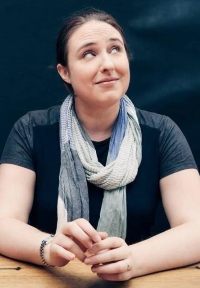 Amie Kaufman is co-author of the award-winning
Starbound
and
Illuminae Files
series. She had the good fortune to be raised just one block from her local library, and took full advantage of that fact growing up. She and her sister spent their childhood summers re-creating their favourite books by camping in the back yard, mapping their neighbourhood, climbing trees, stepping through magical doors and sailing the local seas.
As she grew older, she continued her education, and graduated with honors degrees in history, literature and law, and a master's degree in conflict resolution. After working as a mediator for seven years, these days she's a full time writer, working from her home in Melbourne when she's not on the road in the US, Europe and Asia.
Amie lives in Melbourne with her husband and their very quirky rescue dog, Jack. She's a huge fan of chocolate and naps, has an enormous music collection, and an entire room of her house is devoted to her library. She still sails, and though she climbs fewer trees, she remains partial to investigating the occasional magical door.
Author's Comment:
As authors, [Meg Spooner and I are] both all about what you can make your reader feel. We wanted a story that would take readers on a roller coaster ride, full of ups and downs and twists, because that's the kind of story we both love to read. A fast-paced plot or mystery is all well and good, but to us, if you don't deeply care for the characters involved, it doesn't grab you quite as much. So we wanted people to come away feeling like they actually knew Lilac and Tarver, and to carry them around in their hearts like old friends.
Nationality:
Australian