Laurie Halse Anderson
---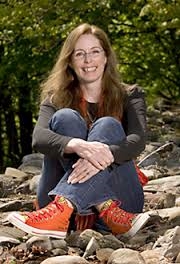 Laurie Halse Anderson writes for kids of all ages. Known for tackling tough subjects with humour and sensitivity, her work has earned numerous national and state awards, as well as international recognition. Two of her books,
Speak
and
Chains
, were National Book Award finalists.
Laurie lives in Northern New York, with her childhood sweetheart – now husband – Scot, their four children and a neurotic dog. When not enjoying her family and her large garden, she spends countless hours working in her writer's studio – a custom-built woodland cottage. She also likes to train for marathons, hike in the mountains, and try to coax tomatoes out of the rocky soil in her backyard.
Laurie is quite sure that she leads a charmed life and is deeply grateful for it.
Author's Comment:
I'm thinking I might write about some of the terrible things teens in America have to deal with. We treat our teens so badly, with all that the corporate culture does to manipulate them. We're good at taking care of little kids, and spend a lot of energy teaching them things like how to read. But when kids get as tall as their parents and can look them in the eyes, we tend to drop the ball – at a time they most need a loving consistent community of adults, be it parents, aunts, uncles, or others. We need to be there to listen and help teens figure all this mess out. I hear from so many kids who have been hurt for whatever reason and it breaks my heart. I'd like kids to read a book take away from it, "This is what I want to avoid," or "This is what I should get help for." Books have to encourage kids to speak up and to get help if they've struggling. We've got to do a better job helping out our teens in this country.
Nationality:
American