Soman Chainani
---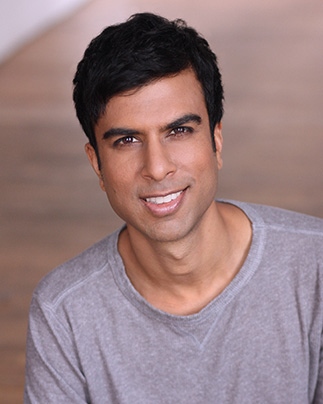 Soman is a graduate of the MFA Film Program at Columbia University, and the recipient of the school's top prize, the FMI Fellowship for Writing and Directing. His short films have played at more than 150 international film festivals and won many Jury prizes.
Before joining the Columbia University film program, Chainani graduated Harvard University with a degree in English & American Literature. While at Harvard, he focused on fairy tales and wrote his thesis on why evil women make such irresistible fairy-tale villains, winning the Thomas Hoopes Prize and Briggs Prize for his work.
When he's not telling stories on the page or on film, Soman is a die-hard tennis player and fan. Competing in tournaments around the world, he never lost a first-round match for ten years…until he started writing
The School for Good and Evil
... Now he loses all the time.
Author's Comment:
I'm passionate and fully present during all the time I have with kids on tour. And the things they say! I've been left speechless many times.One girl asked me what happens if you're not Good or Evil, but just… "normal." (I told her that likely meant she was Evil.) Another boy asked me if I have any friends if I'm producing such large books. I've had girls serenade me with "Let It Go" from Frozen, boys surreptitiously take the book jackets off their books ("so it looks like it's about swans than about girls"), mothers from Eastern European countries propose marriage, religious organizations denounce the book, religious organizations endorse the book, and rural-dwelling, tractor-driving, tobacco-chewing fathers add me on Facebook as rabid fans.
The books have their own lives already, which is the best thing that can happen to an author. It lets us let go of it more easily and just focus on the work.
Nationality:
Indian-American