Chris Van Dusen
---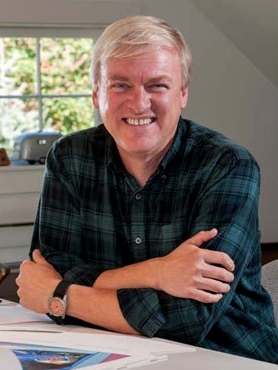 Chris Van Dusen was born in Portland, Maine on St. Patrick's Day in 1960. As a child, he and his brothers would spend hours drawing pictures. Van Dusen's specialty was aliens, robots, and monsters. He has always been inspired by Dr. Seuss and Robert McCloskey — by the musical rhythm of Dr. Seuss' words and the meticulous detail of Robert McCloskey's illustrations.
After high school, Van Dusen studied fine art at the University of Massachusetts at Dartmouth and graduated with a BFA. He was offered a part-time job at a magazine for teenagers and eventually started drawing cartoons and illustrations for the magazine — and his career as an illustrator was born. For more than 10 years he worked as a freelance illustrator specialising in art for kids. He's been busy writing and illustrating children's books ever since.Van Dusen lives and works in a beautiful little town on the coast of Maine with his wife, two sons, and a yellow lab named Pearl.
Author's Comment:
I love the way things looked in the '50s and '60s. The colors, shapes and patterns were so bold and bright and it's fun to paint them in my illustrations. Plus, when I was sketching my first book, I was trying to figure out what kind of car Mr. Magee would drive. I couldn't picture him in a modern car, so I put him in a 1961 Rambler American. It just felt right. Also, the story seemed more believable if it took place back then, for some reason.
Nationality:
American