Atinuke
---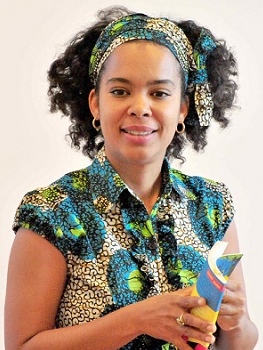 Atinuke was born in Nigeria to a Nigerian university lecturer father and an English editor mother. For the first years of her life we lived in a dusty provincial town near her grandmother and grandfather, uncles, aunts and cousins. When her father was offered a government job, the family moved to the city of Lagos, where, despite the arrival of her two sisters, Atinuke often felt lonely and bored.
When she was ten she was sent to boarding school in England where she managed to overcome her feelings of loneliness and boredom but struggled terribly with homesickness. Three years later Atinuke's family moved to England and she was able to leave boarding school for the local comprehensive school her siblings attended. Her father returned to Nigeria after a year in England, drawn by a new government post and his own homesickness, while the rest of the family remained in England. After school, Atinuke spent a gap year in Paris and then studied English, French and Commonwealth Literatures at the University of York. She fell in love with storytelling when she spontaneously told a story on stage at an English literary festival. She started collecting stories and performing them all over the world, focussing on stories from Africa and the African diaspora. She lives with her husband and their two sons in a tiny cabin on a mountainside overlooking the sea on the Welsh coastline.
Author's Comment:
In 2005 an illness stopped me from travelling long enough to write the first
Anna Hibiscus
stories.I had been meaning to write those stories for years – ever since the homesickness of my boarding school days when I discovered how little children in the UK knew about Africa and even more so as a storyteller when it was clear from children's questions how little they still knew about the Africa that I am from . . . Often the rain stops and the sun comes out and the sea and sky are blue and I am as near to paradise as I have ever hoped to be.
Nationality:
Nigerian